Bagnaia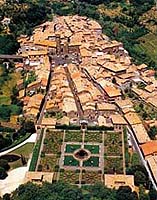 Arriving at Monti Cimini from Viterbo, the journey takes you along a pleasant tree lined avenue, past numerous beautiful aristocratic villas. Just outside the city is the town of Bagnaia. This small wedge shaped centre looks out over the Pierina Valley and is well known among art historians for its Renaissance period Villa Lante, which is also one of Vignola's architectural masterpieces.

The villa is made up of two symmetrical buildings situated in a vast Italian style garden filled with elaborate pieces of architecture and decorative elements such as statues, fountains, waterworks and a maze, all masterfully set together.

The village sits carefully on top of a mountain ledge and is linked to the villa via the so-called "Tridente". Bagnaia also boasts Palazzo della Loggia, which was originally superbly decorated and surrounded in parkland.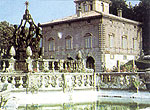 Bagnaia, Villa Lante

Informations

Villa Lante:
• Tel. +39.0761.288008

• Villa Lante Garden visit:
- 1° nov. - 28 feb. 9-16:30 - last visit h. 04:00 pm
- 1° mar. - 15 apr. 9-17:30 - last visit h. 04:30 pm
- 16 sept. - 31 oct. 9-17:30 - last visit h. 04:30 pm
- 16 apr. - 15 sept. 9-19:30 - last visit h. 06:30 pm
Garden visit is possible every half hour whid internal guide
Closed monday – 1° May - 25 December – 1° January